Saturday, November 24, 2012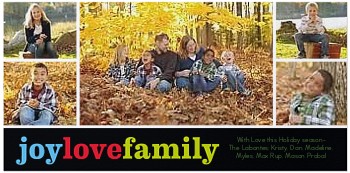 Posted by

The Labontes
at 3:42 PM
5 comments:

Sunday, August 12, 2012
Summer starts off being really frustrating for me. Dan is off with the kids, and I am inevitably jealous and bitter every year. But our weekends are wonderful. We never have to go far, venturing to Nana and Papa's 2 miles away is far enough for a good adventure.
Chilling out at home
Who needs a zoo? Peacocks in the front yard
Excited for Funtown!
Poor guy could NOT make his plane go up. He was MAD!
Max lovin' the Tilt a Whirl. Mom did not love it.
Mason found a bug friend that matched his shirt. This was him telling me, "I am NOT going on any more rides!" This was following the plane failure, Tilt-a-Whirl tears, and having to stop a kiddie boat ride because he fell out.


Maddie on the Dragon's Descent! She got me on there the last time. If she goes again, it will be sans mommy.
Big sis to the rescue!
The train was just right. six rides.
Maddie was a trooper. She had to do most rides alone. Her smile never left her face, and she never declined a request to do something with the little guys.
The cousins from VA teaching the girls how to burp. Gee, thanks, guys!
Mason's birthday! He loved lots of John Deere gear, and rescue vehicles! Linda loved playing with him.
He requested this cooler from Aunt Sally, after seeing everyone bring coolers down to camp everyday. Aunt Sally filled the cooler with lots of forbidden junk food.
The ducks are more like playmates this year.
Brett and Lauren just knew Mason needed lights for his hat and his wheelchair!
Mason and Papa Winnie. Totally buddies all the time.
Fairy Houses have kept the kids entertained for MANY hours this summer
Not a cool part of summer!
Myles always has critter friends
The summer wouldn't be the same without Aunt Angela's blueberries!
Lounging in the lake. Mason, Austin, and Maddie
After spending a year and a half in the box, the new playset is being built!!
Mason needed incentive to do well in therapies. Mr. McHugh and his Jeep worked like a charm!
Ryan's first Frog! So happy that Erin and I stay in touch and I get to see her beautiful family grow. She and Heidi are so special that I agreed to be in their wedding - 8.5 months pregnant for Madeline. It was a sight.
Oh, Charlie
Mason and Roni!
MAX SIT DOWN!!
Oh, I love that devilish grin!
Posted by

The Labontes
at 8:47 PM
5 comments: